Android Apps for Moms: Productivity for Mothers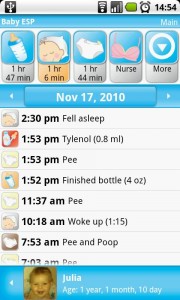 Because I am first and fore-most a mom, all my tools must help me better function in that role. My phone is no exception. Below are some of my favorite apps that help me out as a mom.
For Moms:
Baby Tracker: What to Expect, Baby (Android Market) – This free app provides great information on baby development and everyday care. It provides information on your baby's month-to-month development, growth, milestones, proper feeding practices, health care information and more. Best of all, the app even allows you to talk to other moms via discussion boards. This is basically a one-stop-shop for all baby information.
Baby ESP :Hewitt Software – This tracks nearly everything a baby does. Use this app to keep track of diaper changes, nursing, bottle feedings, sleep cycles, medications, growth charts and more. It even has a journal section to add notes. I use this app more than anything else on my phone. I use it mostly with nursing, but I also love it when I have to give my baby medicine. I know when I gave her each dose and when I can give her more.
Pregnancy: Baby Center (Android Market) – Track your pregnancy day by day with this app. While it sends you weekly updates on your pregnancy via your status bar, you can manually check it daily for updates. I used the Baby Center website more than any other baby site when I was pregnant with my children. I'm so excited it is now an app right on my phone.
Offender Search: Life 360 (Android Market) – Using the phone's GPS, this app alerts you to sex offenders (by name, address and picture)  in your area. When you activate an account online, it enables you to send out an alert to a phone number of your choice.
For Kids:
Toddler Books: MicroAngels (Android Market) – This is great for grocery store lines. This app contains books for the alphabet, animals, birds and colors.
White Noise Lite: TMSOFT (Android Market) – I've checked out other white noise apps designed specifically for babies, but this is my favorite. This app allows you to pick specific noises, and then adjust the sound to fit your baby perfectly.  Especially in those first few months of my youngest's life, I used this app many times a day. Because babies are soothed by noises that immitate the womb, I used this whenever my baby was fussy for a reason I couldn't solve. This generally helped calm her down.
Toddler Lock: Marco Nelissen (Android Market) – This is another great app for grumpy kids while shopping. When kids touch the phone screen, shapes appear and music plays. This is also great for babies learning to use their hands (as long as someone else is holding the phone). When my oldest asks to play "the shapes game," I know his is what he wants to play.
Baby Touch: papa_interactive (Android Market)- This app is great for toddlers to use themselves, or for parents to use to entertain babies. This app allows you to touch pictures of animals, vehicles, instruments and insects to hear the noise they make. Just today, we were driving home and my son was a bit grumpy. I handed him my phone and let him play "The car sounds game" (as he calls it). This made for a much more pleasant trip home.
Ami Paulsen